DISCOVER THE HOTEL LA CRIQUE NATURE & SPA
An enchanting place to be at one with nature. Welcome to our resort hotel where all is luxury, calm and pleasure. Perched on a cliff, La Crique Nature & Spa overlooks one of the most beautiful lagoons in the world: the Dakhla Lagoon.
SENSORY MASSAGES
– Sahara, with argan oil
– Land of Africa, with shea butter
– Aroma – relax, with vegetable oils
– Shirobhyanga, with warm sesame oil
– Nuad Thao, Thai Reflexology Treatment
– Yoga – Thai Massage, inspired by yoga postures
HAMMAM
– Desert flowers: exfoliation with black soap + henna, cahmpoing, dehydration, lathering, Ghassoul wrap + Mask or akerfassi honey
– The essentials of sensoria: Hammam, black soap and henna scrub, shampoo, delimer, scrub or sea salt, + 30 minutes massage in the hammam
THE REFUGE
– Sahara Ritual: Hammam + black soap & henna scrub + ghassoul wrap + Sahara massage with argan oil
– Land of Africa Ritual: Hammam + coffee and coconut body scrub + white clay + nourishing or shea butter massage.
EXCURSIONS
– The city of Dakhla: 20€ / car
– The white dune and the thermal spring of asnaa: 80€ / car
– Portorico & Imili: 120 € / car
– The oyster farm: €40 / car
– Dragon Island: 23€ / pax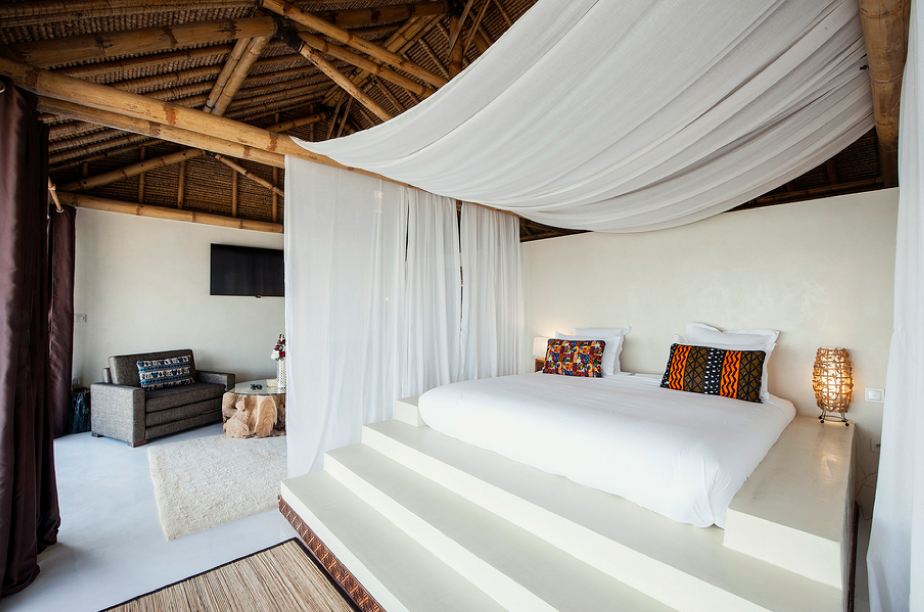 CANCELLATION CONDITIONS
– No-show: 100% CHARGED
– Less than 7 days before arrival: 100% CHARGED
– From 8 to 15 days prior to arrival: 50% charged.
– From 16 to 30 days prior to arrival: 30% charged.
– 30 days prior to arrival: 0% charged.
These cancellation conditions apply to individual requests from individuals and do not apply to requests from groups of more than ten people, privatisation or semi-proprivatisation. The latter are the subject of a bilateral agreement between the two contracting parties.
Cancellation by Covid-19
In case of cancellation due to border closures or COVID restrictions we will provide an open voucher valid for 1 year for the value of the payment made for all confirmed bookings.
Low Season
09/01/2018 to 31/01/2018
February 2018
06/11/2017 to 19/12/2017
High Season
20/12/2017 to 08/01/2018
March, April, May, June, July, August, September, October 2018