Today, I'm going to tell you all about my trip to Dakhla from start to finish to give you an idea of what it's like to go with Dakhla Kitesurf Hotels. From booking to airfare, through housing, nothing will be left out from my story.
To begin with, you should know that I started with zero experience in kitesurfing, so if I managed to get there you will get there too!! 😉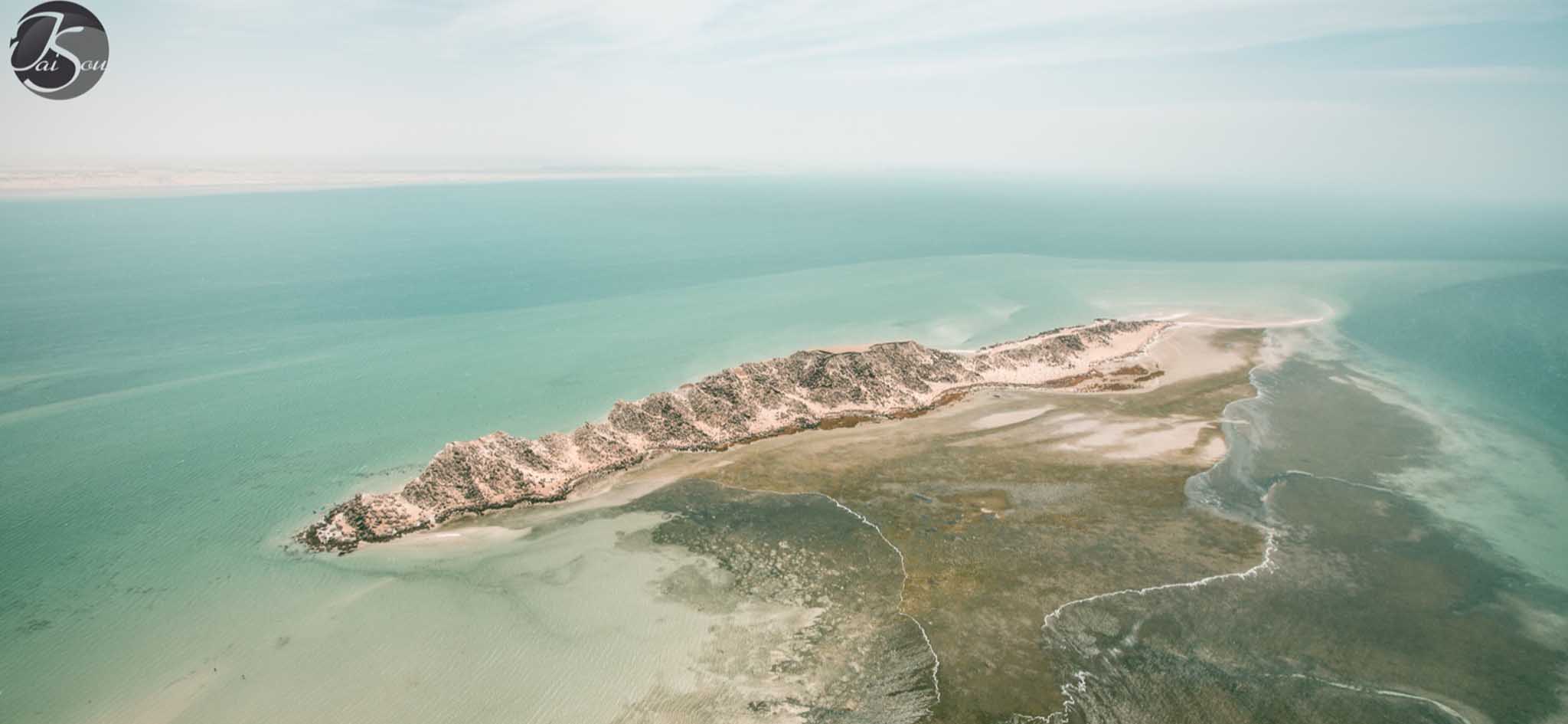 So, you should know that I left in early June to stay in Dakhla for a week. Living in Málaga, I took the Royal Air Maroc flight with a stopover in Casablanca. You can take a suitcase in the hold up to 23kg and for those who want to bring their own kite equipment, you can bring an extra bag of 23kg FREE. However, I recommend instead to rent equipment. During discussions with other riders, they preferred to rent to avoid clutter and in addition the material offered by the nautical center was excellent.
If you prefer to travel with your own gear, you can watch wind conditions at the windguru website 2-3 days before to take the appropriate gear.
After taking a small propeller plane to Casablanca where I waited 2 hours, I then took another plane to Dakhla. Arriving in Dakhla at 23:50, it was necessary to fill out an information sheet (reason for the trip, name, first name etc …) and of course to pass through customs.
Once the suitcases were reclaimed, the people from Dakhla Attitude were waiting for us to drive us to the hotel. After 25 minutes, I finally arrived in kitesurf-paradise in the middle of the desert.
As it was night-time we didn't see too much of the place, but the next day, after waking-up is just the best!
At the hotel Dakhla Attitude I stayed in a Standard Bungalow at the "Dragon Camp". The bungalow has 2 single beds, a private bathroom and the most magnificent views of the Dragon Island and the lagoon. When you wake up, it's priceless! !
The bungalow is 18m2 total but it was more than enough for the short time I spent there.
What struck me during my stay at this hotel was the friendliness of the staff. They are very attentive and do their best to find a solution for every traveller.
As for the kitchen, there was a little bit of everything in sufficient quantity; Moroccan dishes and international cuisine. The restaurant is spacious and has an outdoor area. Breakfast is served between 8h and 10h, lunch between 13h and 15h and dinner between 20h and 22h.
As for places to hangout, you have the Bar next to the restaurant with music in the evening, Moroccan style sofa to sit, read, etc. Then there is the Beach Bar right next to the nautical center, my favorite spot after kite sessions. In the evening, I watched the sunset while listening to Lounge music. Really perfect, this place!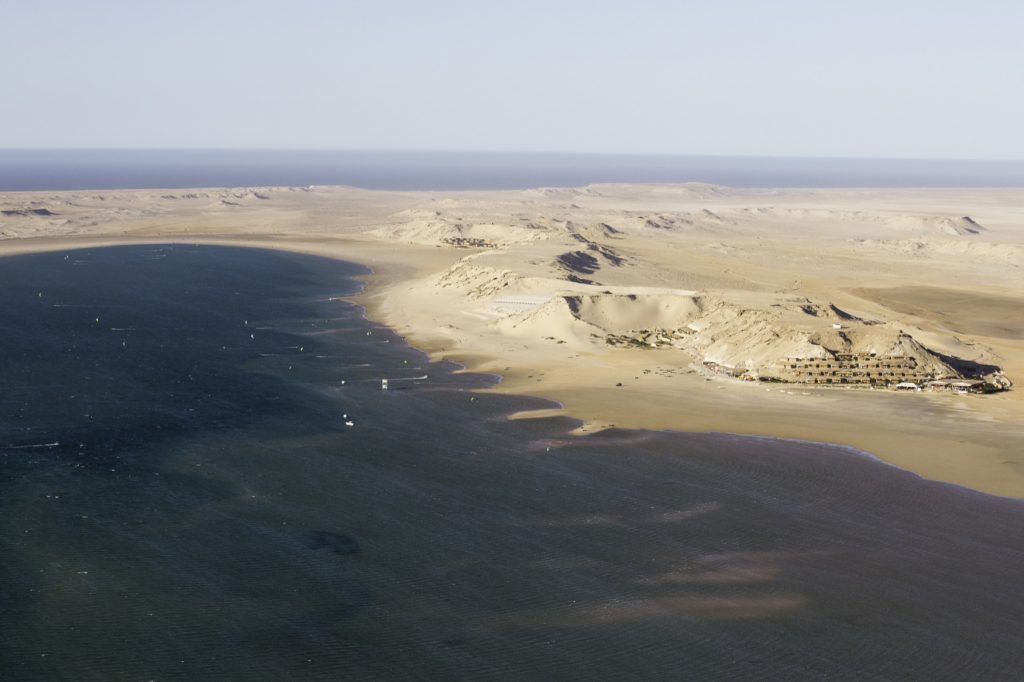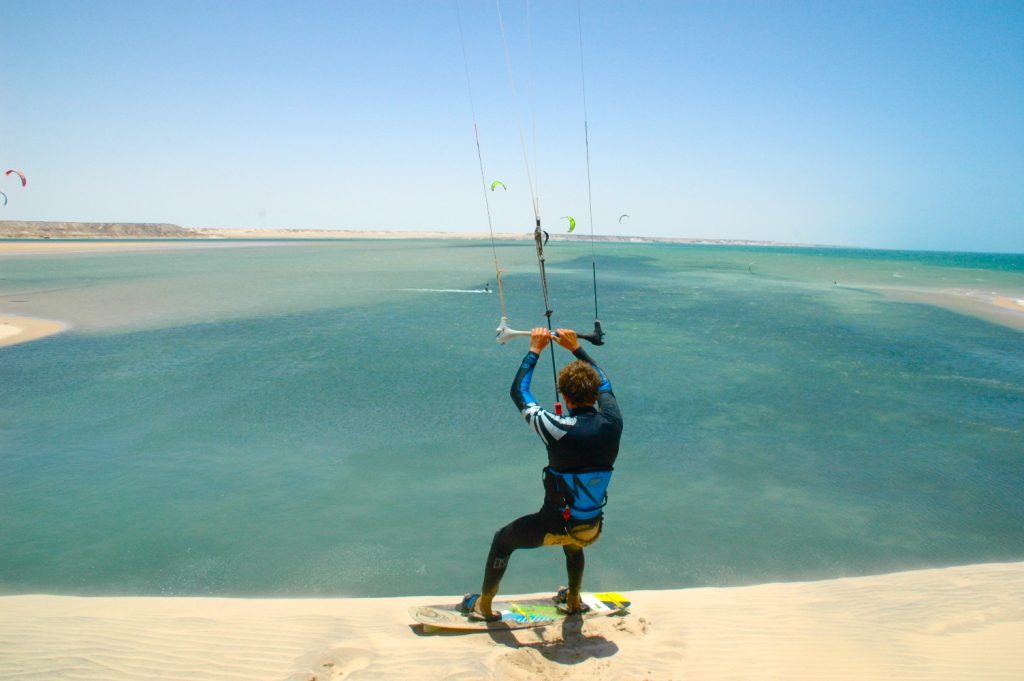 There are several kite-spots in Dakhla:
THE MAIN LAGOON
This is where I was able to take kitesurfing lessons. Moreover, there is a place dedicated to beginners where there is shallow water, which gives confidence to get you started.
The first two hours of lessons are on the beach where you learn the basics: launch a kite, handling, etc. Then after the first 2 hours, we begin to go in the water to try "body-dragging". Then, we can attack the Waterstart (with the board) and already have a few great first runs.
On the main lagoon, there is also the possibility of freestyle kiting.
THE WHITE DUNE
It is a 13km Downwind that crosses the entire lagoon. After an hour of kiting, you will arrive at the Dune Blanche. The water is turquoise and flat. For the bravest amongst you, you can kite-jump from the top of the dune.
The downwinder is reserved for people who already know how to sail but for beginners it is possible to go there by boat.
There are other spots for riders such as the Speed ​​spot and the Wave spot.
WHAT TO DO ON DAYS WITHOUT WIND?
For days without wind, which happens rarely, most hotels offer other activities such as paddle, kayak, wake boarding and excursions. When I went there, it was windy every day.
If you want to try other activities, I recommend you read this article dedicated to activities when there is no wind.
.
PRICE OF STAY : 1565€ (Accommodation un full board, flight and 12h of semi-private kite lessons)